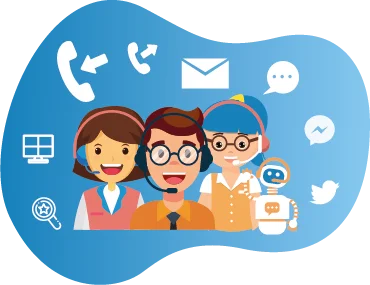 Akio.cx, the omnichannel contact centre software
In order to continuously improve customer satisfaction levels, businesses need to provide a seamless and optimised customer experience, especially at key moments of interaction with clients. Akio Unified, at the heart of the Akio.cx call centre software, enables you to manage client conversations across all channels – voice, (management of both inbound and outbound calls), email, chat, Facebook Messenger, Twitter…- and with the Akio Insights module, you can analyse the 'voice of the customer' and your e-Reputation.
Discover how our platform can transform your customer experience! 
Akio Unified, customer service software for voice and digital channels
A natively omnichannel tool that allows businesses to manage all communication channels through a unified interface. Robust and scalable, it guarantees an unprecedented level of quality, regardless of the variations in volume. Its collection of web APIs make it easy to integrate with your other CRM tools. 
Augmented agent interface

Ergonomic and simple
- Compatible with any web browser
- Unified interface for all channels
- Vertical menu for navigation and status
- Contextualised interaction management


Unified Client File
- 360°view of contacts with each client
- Multichannel history
- Automatic contact recognition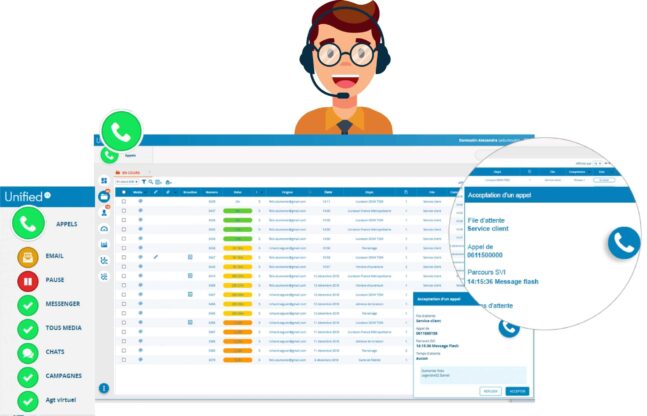 Seamless views, regardless of the channel
- Switch channels on the same interface
- Simultaneous management of multiple interactions


Automatic Contact Distribution
- Intelligent interaction distribution
- Skill and availability criteria
- "Preferred agent" functionality to direct client requests to the agent that handled the previous request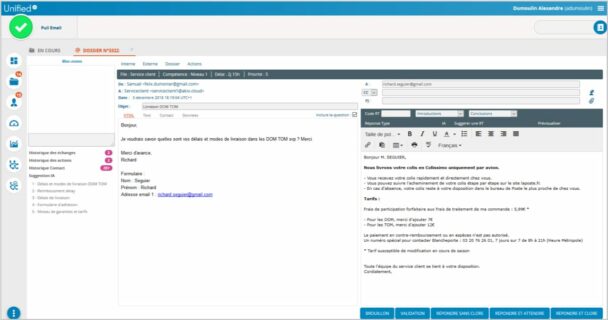 Voice channel - Telephone, IVR and WCB

Inbound and outbound calls
- Interactive Voice Server
- Skill based distribution
- Real-time supervision
- Number portability
- All types of special phone numbers


Outbound campaigns
- Preview or progressive dialling
- Access to planned call-backs
- "Preferred agent" functionality
- Integration of external scripts and prospection lists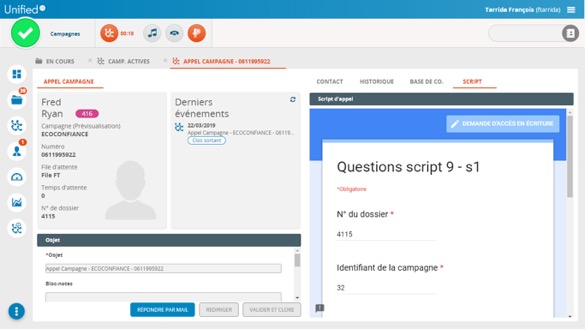 WebRTC communications
- SIP & WebRTC communications, including remote & home working.

Presence Management
- Quick view of colleague presence (phone status, calendar, TWS presence), and availability
- Centralised directory

Communication
- Phone and softphone ; chat ; audio- or video-conference ; application sharing ; mail ; SMS
- Compatible with Alcatel-Lucent Entreprise (OXO & OXE), Mitel (MiVoice 5000 / MiVoice 400 / MiVoice Business), Siemens-Unify (OpenScape Business / OpenScape Voice), SIP phones (Yealink / Snom)

Collaboration
- Chat ; audio- or video-conference ; application sharing ;
- Shared call queues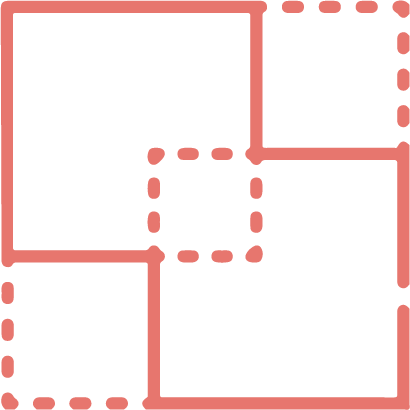 IS and business application integration
- Native integration with the main CRM (Salesforce, Dynamics 365, Sugar, …)
- Build-in connectors towards : directory (LDAP, AD), database (ODBC, SQL), contacts and calendar (Outlook, Office 365, Zimbra, G-Suite …)
- 100% Web Services based integration Toolkit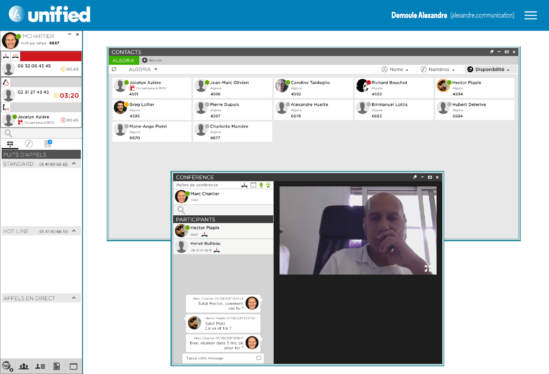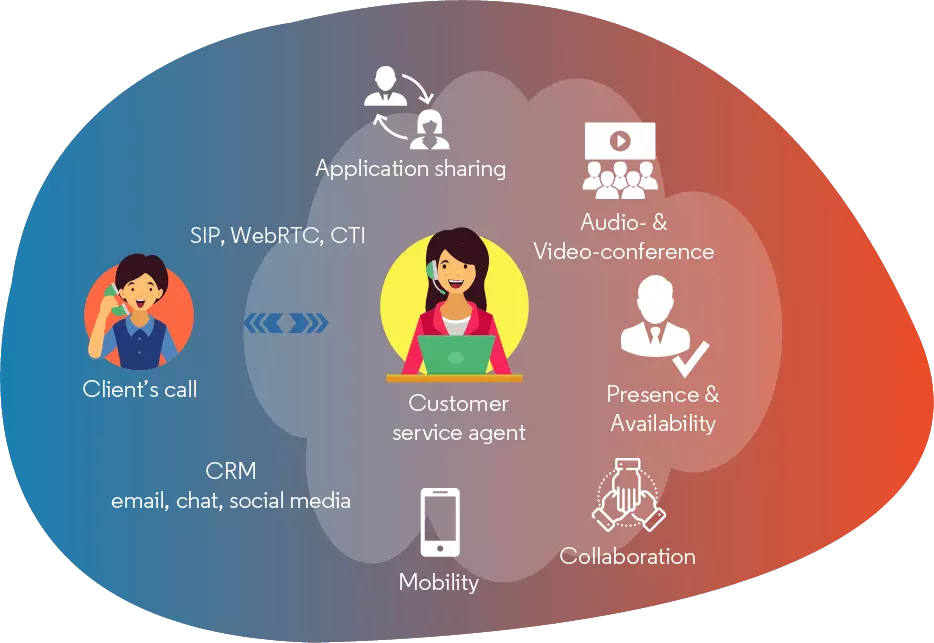 Artificial intelligence and unified interface
- Omnichannel client file
- AI assistant to suggest email responses
- Customisable knowledge base with standard responses
- Direct access to external experts and other services and tools


Management of activity and customer service teams
- Agent dashboard for personal performance management
- Collaborative desktop for overview of team activity and status of interaction management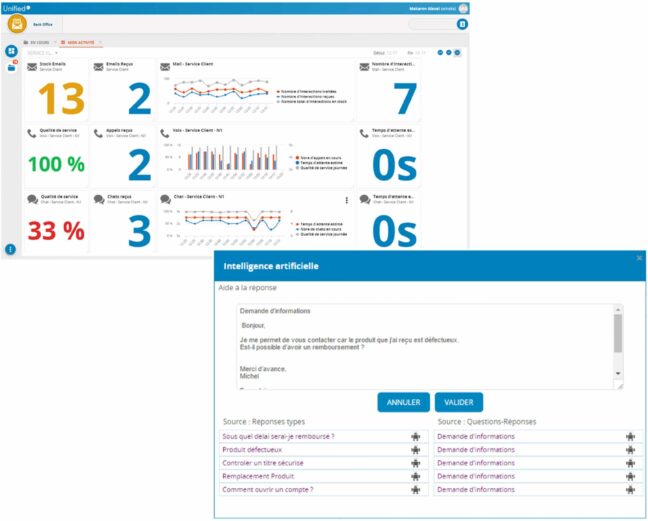 Customisable dashboards
- Easily configure supervision
dashboards and export as wallboards
- Manage individual channels and visualise consolidated KPIs of omnichannel activity


Real-time Supervision
- Follow your KPIs in real-time
- Validate outbound emails
- Manage agents: call monitoring, disconnection, call recording, instant skill modification


Statistics
- Select tables and graphics
- Plan distribution of regular reports and 'picking' tasks
- Use predefined or personalised reports
- Export data in different formats - CSV, XLS..- or via a datamart (can be connected, as an option, to feed Business Intelligence tools)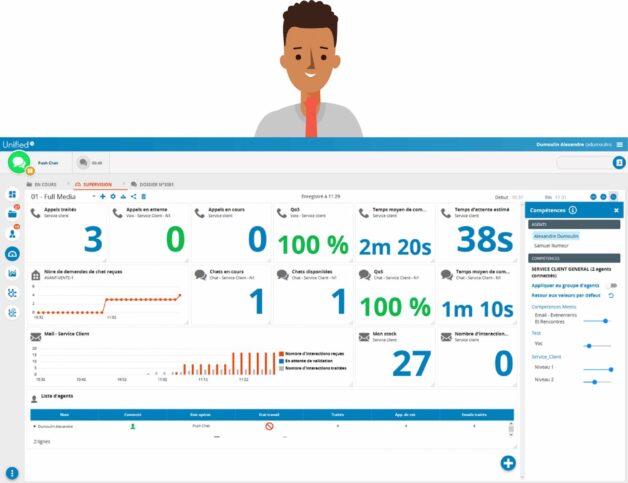 Multi-tenant environment and multiple business units
- Manage several internal or external teams within the same environment (After-sales service, Customer Support, Complaints...)
- Sub-divisions possible, with separation of data between business units


IVR and ACD
- Configure the in-built IVR in the voice module, with different call strategies possible (Call-Back, transfer to voice mail...)
- Distribution of calls (inbound/outbound), emails, chats, Facebook Messenger, letters, fax, SMS... based on 3 criteria: availability, history, and skill levels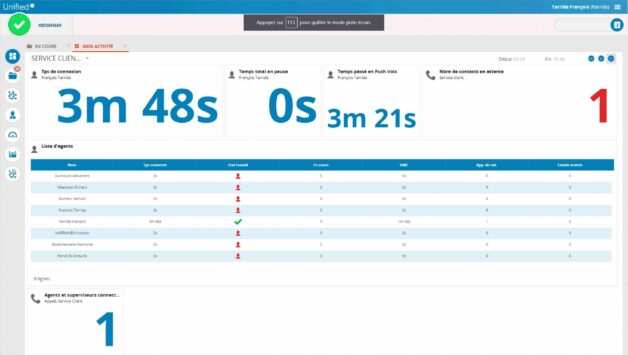 Customer service management

Customise client relations
- Manage users, queues and skills
- Configure agent desktop: status, wrap-up time, work agenda
- Configure templates (HTML e-mails, introduction and conclusion, etc..)
- Define qualification criteria - Manage knowledge base with standard responses
- Manage teleworking - Free sitting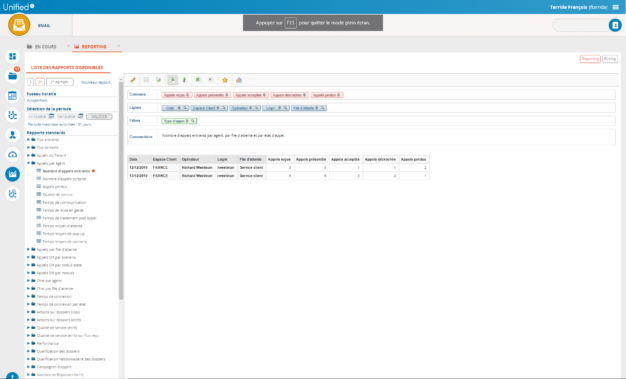 Akio Insights, the voice of the customer in one click
The Akio Insights module on the Akio.cx platform is based on a semantic analysis engine to understand "the voice of the customer" and measure Brand Reputation. Based on linguistic rules and artificial intelligence, it enables quantitative and qualitative analysis of client feedback across all channels:  e-mail, chat, social media, customer surveys, forums, opinion platforms.
Voice of the Customer : Internal data

Client discourse
Integration of feedback from all client relations channels: content of chat conversations and e-mails, exchanges on Facebook Messenger, responses to customer surveys, etc

Semantic analysis
Analysis of the tone to detect opinions, needs and irritants at each stage of the customer journey, as a supplement to NPS ratings.

Artificial Intelligence
AI and semantic engine: multilingual categorisation of data based on customisable sector-specific analysis grids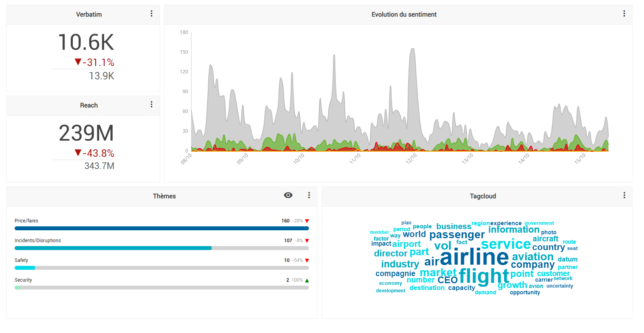 Voice of the Customer : External data

Web and social media monitoring
On-line media comments, forums, social media, image and video sharing, and opinion websites

Qualitative and quantitative analysis
Linguistic expertise and analytics engine to carry out text-mining of spontaneous customer feedback on the web

Multichannel analysis
Overview of all client feedback (interactions with call centre and spontaneous feedback on the web) for detailed understanding of the voice of the customer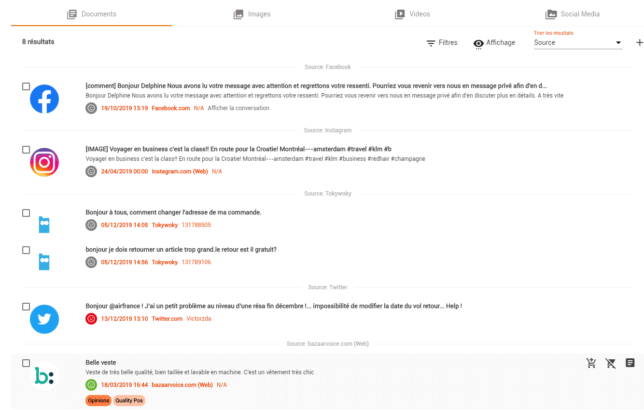 E-reputation - market and brand monitoring

Interactive dashboards
Monitoring of brands reputation and market issues, on a user-friendly platform:
- Personalised dashboards (visibility, customer journey, influencers, events, benchmark...)
- Full access to all data
- Data visualisation tools


Marketing and Communication
- Extract insights from the mass of unstructured data
- Identification of trends and weak signals
- Internal reporting for Client Experience, Marketing, Communications departments
- Monitoring of influencers, impact analysis for online and offline campaigns


Real-time alerts
Detection of peaks in volume, monitoring of critical issues or sensitive topics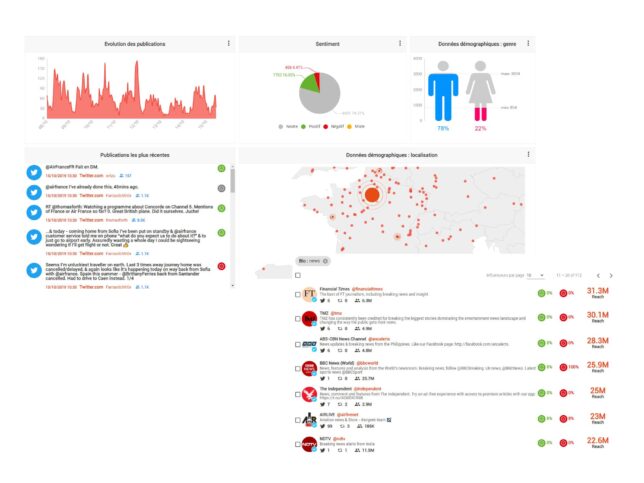 E-reputation - Reporting Social Listening

Newsletters
- Daily or weekly, with a selection of documents
- Criteria: source, importance, tone and / or volume
- Synthesis: qualitative analysis of buzz on a topic


Analysis reports
- Carried out by a team of multilingual experts, customisation of deliverables
- Composed of quantitative and qualitative indicators, qualitative analysis of data, synthesis of feedback
- Formal reports or ad-hoc studies of positions of parties implicated (consumers, media, associations, experts...) in a specific topic