Speaker | Paris, France | April, 2020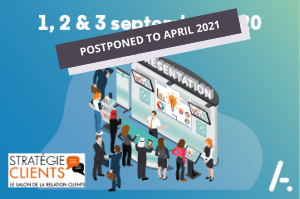 Do you plan to visit the Stratégie Clients event in Paris to find the perfect omnichannel contact centre tool? 
The preventive measures related to the Covid-19 virus have obliged the organisers of the event to postpone the event to April 2021. 
Stratégie Clients, the leading event in the customer experience sector in France, is postponed to April 2020.
If you were hoping to discover our Akio.Cx platform, for omnichannel interaction management (Voice, email, Chat, Facebook Messenger, Twitter DM), then don't change your plans! Our teams are available through video conference!
Request a demonstration here.
More info about the event: https://www.strategieclients.com/
The place to be for CX professionals who are eager to discover the latest trends in the optimisation of customer services. The Akio teams will be present to talk about our unique offer and share how we're currently helping our customers: from simplifying and empowering customer service with an omnichannel, AI powered platform, to analysing the voice of the customer to capture customer insights.